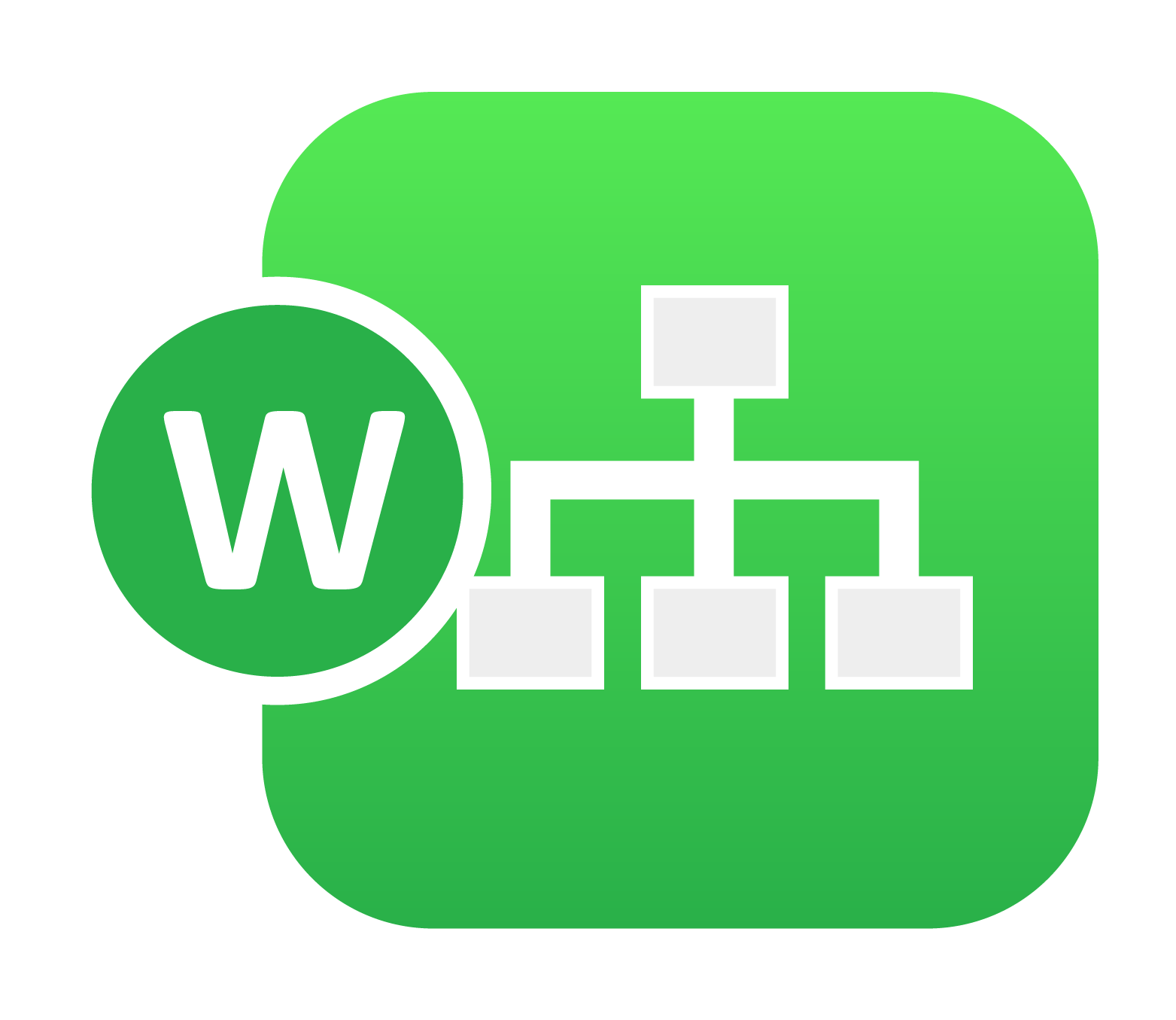 1. Overview¶
Workflows aims to make complex business tasks more efficient by facilitating the process. You can prepare a model, simulate it using on-premise or cloud resource, monitor during solution, perform data-extraction, and optimize with a simple intuitive workflow builder. We set up workflows by linking up workers (mathematical and scientific calculations, data transformations, data processing, systemic actions, etc.) to perform specific operations.

Figure 1: Workflow Example
Watch this short video about Workflows to gain a general understanding of the application:
1.1. Featured Benefits:¶
Over 800+ workers to select from: Math, Curve, Curves, String Ops, Job submission and many more.
Parallel execution of workers
Supported input types: Text, Textarea, Number, Date, Range, File, Curve/Vector, Image, Video, Keyvalue, Dataset, Dropdown, Boolean
Includes Curve, Text, Charts and File viewers (supports csv, tsv, xls, json, js3d, keyword, txt files) and also allows overlaying of curves between inputs/outputs of various workers
Decision worker, multiple start workers, multiple end workers, comment boxes
Zooming/panning along with Undo/Redo support
Importing workflows from the DataBase, load workflows from JSON files
Export workflow to PDF, PPT with customization of the slides using Reporter with template saving capabilities
Comparison with other workflows w.r.t. workers count, input/output values
Back-end execution of workflows i.e. saving state of workflow on browser crash, system restart
Logs to keep track of configuration, execution - can be exported as CSV
Birds eye view
Cloning of workers while workflow creation
Duplication of workflows, support for workflow download as JSON files
1.2. What Will Be Covered:¶
Accessing and Workflows Home
New Workflow and Edit Mode Interface
Importing Data including START worker configuration
Adding and configuring workers
Saving, Exporting and Sharing
Executing and Run Mode Interface
Viewing Data and Results
Accessing Workers Library
Example Workflows
Iteration
Parallelization
Curve Digitizer
List of Workers
Workflow Cheat Sheets
Workflow Glossary
Show Me How Videos
FAQs
1.3. Accessing the Application¶
Click on the Workflow logo under the Application Menu to access the application. The App Menu can be accessed under the table header icon in the left upper corner of the page. Click this icon to open the app menu, and click it again too close.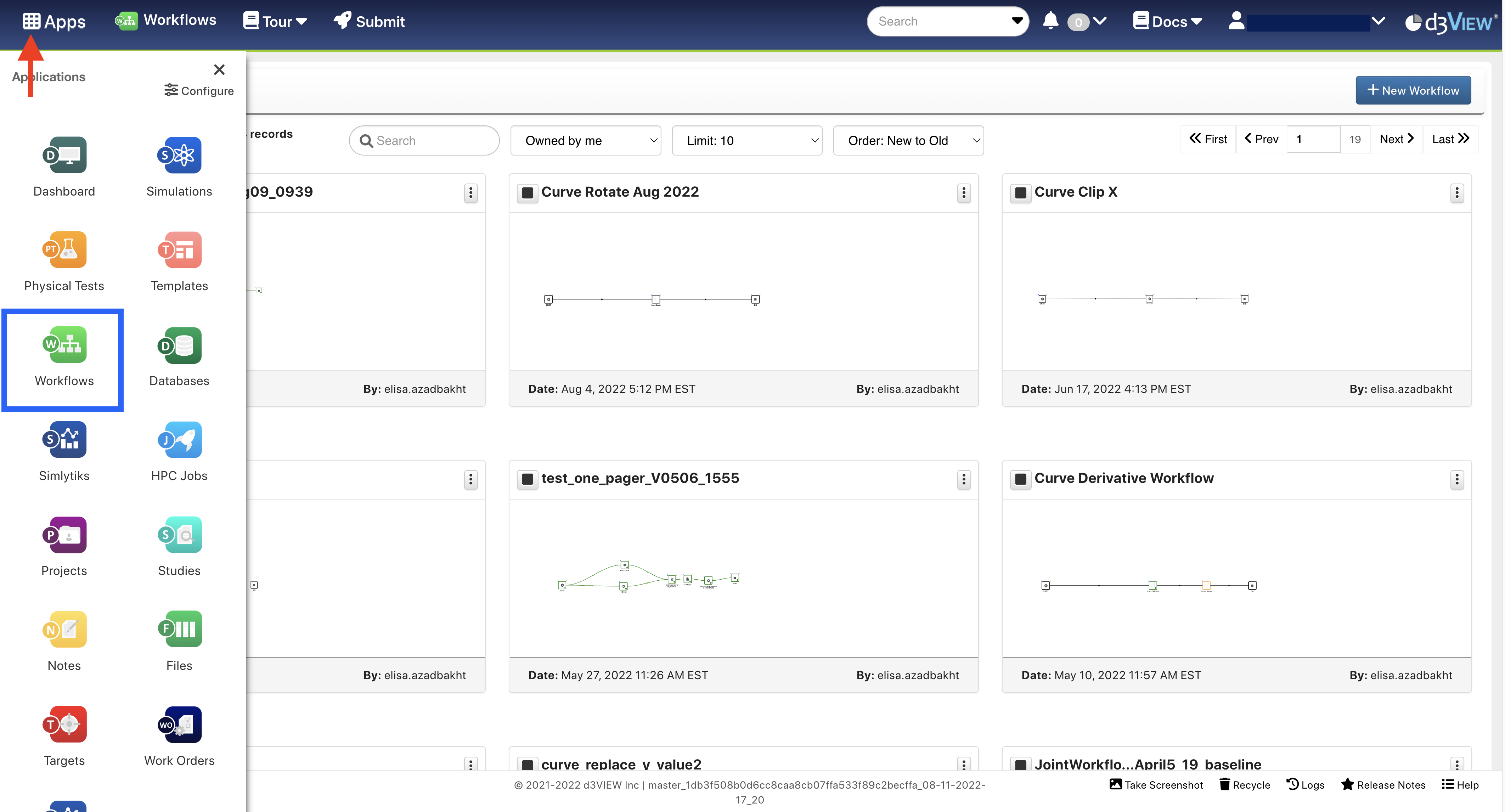 Figure 2: Accessing Workflows
1.4. Workflows Home¶
Your workflows home page presents all your workflows as thumbnails. You can search for workflows, filter through them and view them in grid or list formats.
Figure 3: Workflows Home Page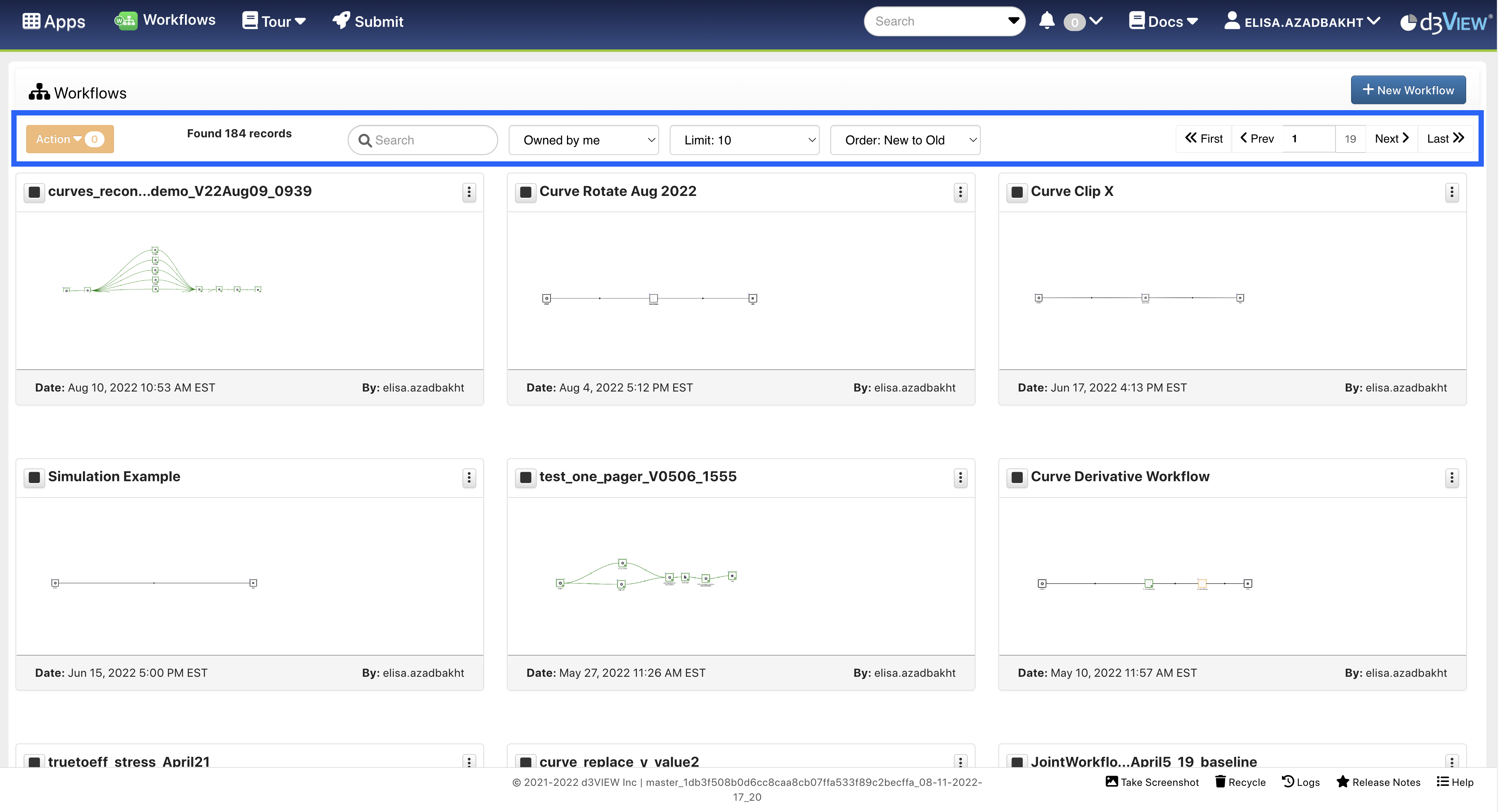 You can perform actions on individual workflows through this page. The following image maps out the actions listed below.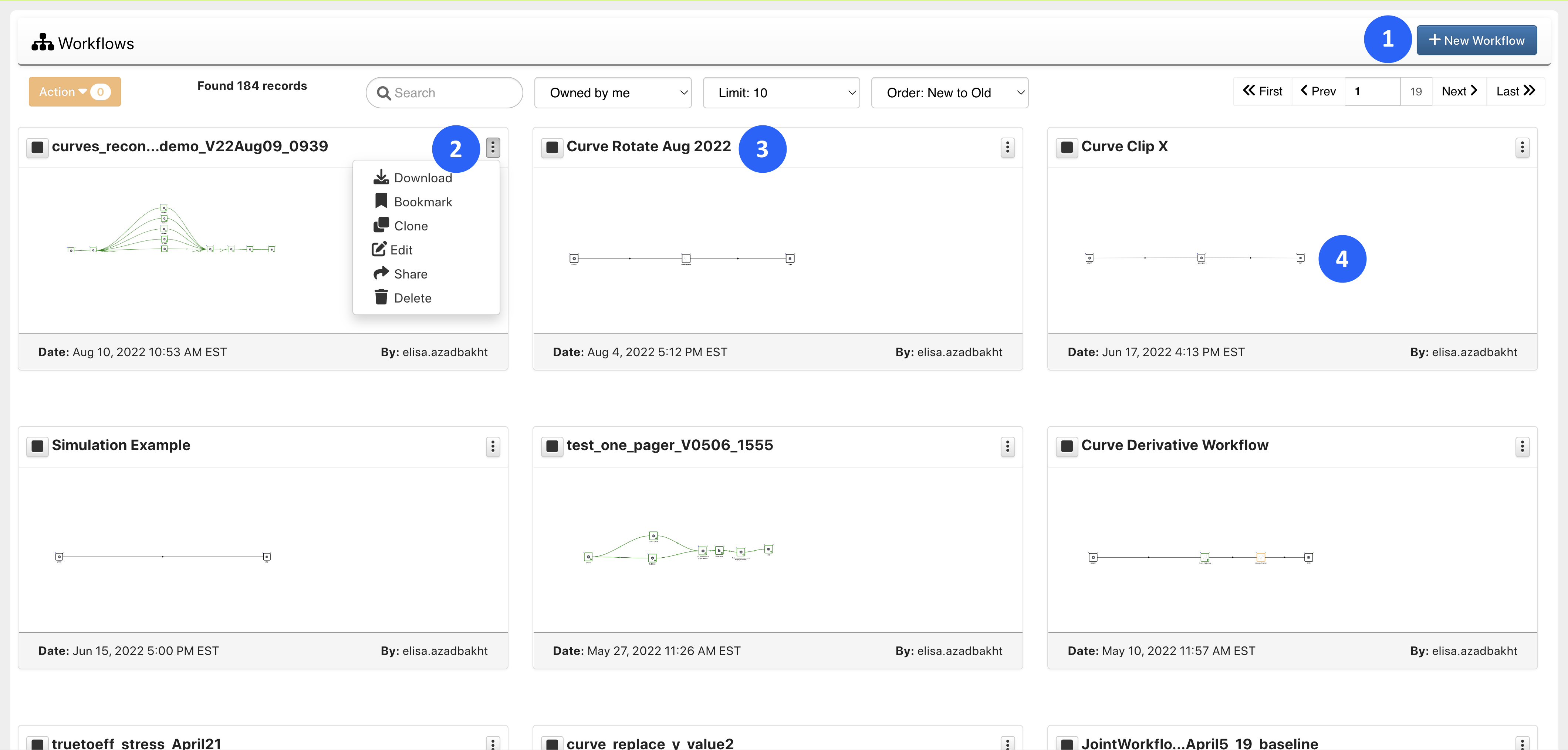 Figure 4: Workflow Thumbnail Actions
New Workflow: Creates new workflow
Workflow Options: Commands on individual workflows
Name of the workflow: Click on name to open
Thumbnail: Quick view of the workflow